Brazilian Jiu Jitsu is a martial art, combat sport, and a self defense system that focuses on grappling and especially ground fighting.
We offer a traditional Gi Brazilian Jiu Jitsu class for beginners and advanced students. We also offer Open Mat times to review and grapple with other members.
Top reasons to start Jiu Jitsu
Try something new: Let's face it, people don't like change! However, change is good for us to get out of the rhythm of life. Jiu Jitsu is the perfect thing to change your life. It will allow you to grow as a person by applying the same lessons learned on the mat to your daily life. Lessons such as how to deal with adversity, how to learn from your mistakes and how to set goals you will actually follow thru with.
Get into shape: We all set those goal at the beginning of the year to lose a few extra pounds but halfway thru the year, we stop going to the gym as often. What if every time you went to work out it didn't feel like work and was fun. Not to say that Jiu Jitsu isn't work, but it is fun and you will definitely notice those pounds shedding away when training just three days a week.
Meet new people: Maybe you need a change of people in your life; your friends are negative or maybe you don't have many friends at all. Jiu Jitsu is full of people from all walks of life. They all share one common goal of wanting to work together and support each other in getting better each day. I can't tell you how many times people walk into a gym shy and timid and three months later; they are a completely different person. Sharing the mat with someone is a bond that will last a lifetime.
Gain Self Confidence: Self Confidence is something that is gained from training any martial art and can carry over into our day-to-day life. By training in Jiu Jitsu, you will learn how to deal with adversity from things like finally perfecting a move or fighting out of a submission.
Learn Self-Defense: Jiu Jitsu was originally created by Carlos and Helio Gracie as a martial art for self-defense for the smaller person to defeat the larger person with technique and not strength. Jiu Jitsu is the only martial art that you can always train as hard as you want and not sustain an injury, this makes it the most practical martial art for self-defense. It is a great martial art for children as young and 6 years old to learn practical techniques to defend themselves.
Coaches Thomas and Erin Longacre
Mixed martial arts
It has been proven time and again that MMA is the best form of self-defense. If the combination of Brazilian Jiu Jitsu and Muay Thai work against a trained opponent, imagine how effective those arts are against an untrained attacker on the street. In addition, MMA is a phenomenal workout and provides a myriad of benefits. We have many members from who come from Tulsa and the surrounding areas who come to our gym to train MMA because they are interested in self-defense, getting in great shape and/or competing one day. And there is no better way to blow off steam! We offer an exciting and safe environment for training Mixed Martial Arts.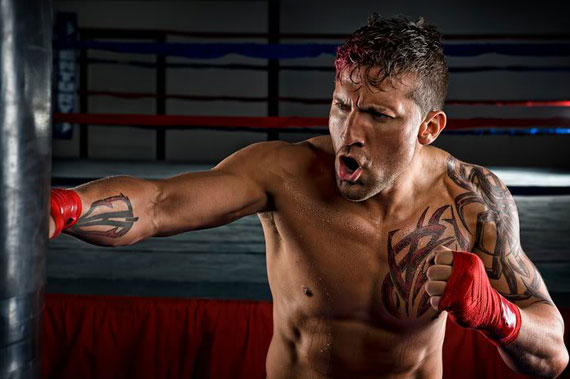 CONFIDENCE AND FITNESS WITH A KICK
The BEST in Cardio Kickboxing will provide the confidence and the strength to take on life's challenges. That's what we do at Thunderkick Tulsa. Classes are combined to teach confidence in striking and to have the endurance to overcome the body with strength circuits between every punch and kick. Bag therapy sometimes is needed with our everyday stressful life. Why not do it at the best place with the best professional instruction possible at Thunderkick Tulsa?
Coach and Owner Thomas Longacre
Coach Zach "Poke" Patterson
BUILD CONFIDENCE AND CHARACTER
Our kid JiuJitsuStrong program will be build Confidence, coordination and character. After myself doing many types of martial arts and combat sports I believe that JiuJitsu offers the most all around best in kid self defense. With my program they will learn defense with submission attacks as well as how to strike as well. JiuJitsu to me is like the quote from Bruce Lee-"the art of fighting without fighting". Being able to control your opponent without striking but at the same time it's good to know just in case it is needed. Starting this program at a young age will help grow strong and confident leaders and examples in school, home and in life. Have your child JiuJitsuStrong at Thunderkick Tulsa.
Coach Thomas Longacre
Owner
Monday/Wednesday
Fundamentals Jiu-Jitsu 5:30 PM
10 Round Cardio Kickboxing 5:30 and 6:30 PM
Fundamental MMA/Striking 5:30 PM
Tuesday/Thursday
Kid's Jiu Jitsu 4:30 PM
Advanced Gi Jiu Jitsu 5:30 PM
Advanced MMA 6:30 PM
Friday
10 Round Cardio Kickboxing 5:30 PM
Open Mat 5:30 PM
Saturday
Advanced MMA Sparring 11:00 AM
(Check the Thunderkick Tulsa facebook page for updates on weekend training)
Location
4107 S. Yale Avenue, Unit 244
Tulsa, OK 74135
Thunderkick is located in the Promenade Mall on the 2nd floor, midway between the food court and JC Penney's.